Thavisha Peiris murder: Pizza delivery driver found covered in blood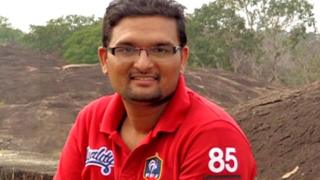 A colleague of a pizza delivery driver who was stabbed to death has told a jury he saw "blood everywhere" when he discovered his friend's body.
Thavisha Peiris, 25, was found dead in his car by Mehrdad Mahfazi in Southey Crescent, Sheffield, on 27 October.
Prosecutors say Mr Peiris "bled to death" following a "frenzied" knife attack by Shamraze Khan, 26, of Southey Crescent, and 18-year-old Kasim Ahmed.
Mr Khan denies murder, while Ahmed, of Main Road, Darnall, has pleaded guilty.
At Sheffield Crown Court, Domino's worker Mr Mahfazi said he had been sent to find Mr Peiris after a customer rang up saying he had heard "screaming and shouting" from Mr Peiris's car.
'Six-inch knife'
He said: "When I got closer to the car I eventually saw him leaning on to the passenger side. I thought he was sleeping.
"I went to the passenger door, I opened the door and I sat next to him. I tried to wake him up.
"I had a closer look at his belly and I saw blood all over.
"Then I noticed there was blood everywhere."
Mr Peiris was working as a delivery driver after graduating in IT from Sheffield Hallam University and had been due to start his "dream job" shortly after he was stabbed in the chest and killed.
Mr Khan told police he did not take part in the attack.
The court heard both men had stolen two mobile phones in a knifepoint robbery at Sheffield's Castle Market earlier that day.
One of the two robbery victims, a 16-year-old girl, said one of the men ran a six-inch (15cm) knife across her friend's throat during the robbery to threaten him.
Mr Khan and Ahmed have both pleaded guilty to two counts of robbery.
The trial continues.