GP Andrew Johnson jailed for decades of sex abuse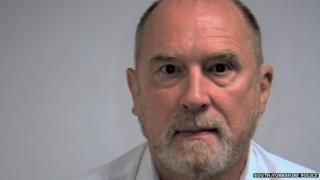 A GP who sexually abused patients over more than 25 years is serving a lengthy jail sentence, it can now be reported.
Andrew Johnson, 62, from Bawtry, South Yorkshire, targeted women and girls between 1979 and 2006.
At Sheffield Crown Court in April, he was jailed for five years for 15 offences. The sentence was increased to nine years by the Appeal Court in June.
On Wednesday, he was jailed for another 32 months after admitting more abuse, enabling his crimes to be reported.
A police investigation into Johnson - who was based as a GP in Station Road in Bawtry and Main Street in Blyth, Nottinghamshire - began in 2010 when a patient reported she had been sexually assaulted in the past.
'Tremendous courage'
As the inquiry continued police identified further victims, who all stated they had been indecently or sexually assaulted by Johnson while they were his patients.
He was ultimately convicted of 15 offences of indecent assault and sexual assault and jailed in April for five years - increased on appeal to nine years.
In the case that concluded at Sheffield Crown Court on Wednesday, the former GP admitted sexually abusing a teenage girl between 1990 and 1993.
He was sentenced to two years and eight months, to run consecutively to his other jail term.
Reporting of the outcome of the earlier case was banned until the conclusion of the case involving the teenage girl.
Johnson was struck off by the General Medical Council before the police investigation began and is on the sex offenders register for life.
Det Ch Insp Steve Whittaker said after sentencing on Wednesday: "The victims in this case have shown tremendous courage coming forward and I would like to praise them for their bravery."