Sheffield's Moor Market pitches 'click and collect' idea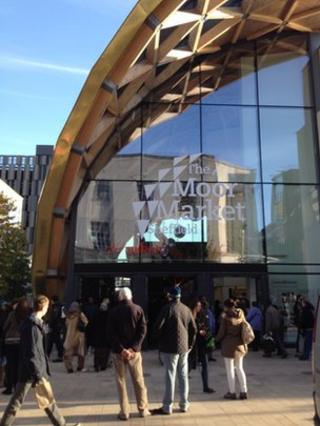 An online "click and collect" idea has been pitched for Sheffield's struggling indoor market, which opened in November at a cost of £18m.
Sheffield Council said shoppers could visit virtual stalls and order shopping before collecting it from the Moor Market in person.
When it opened, the council hoped for 100,000 visitors a week but footfall has only averaged 59,000.
Councillor Simon Clement-Jones said: "I don't think the market has failed."
He said: "We need to keep getting behind it. It's working at the moment and we need to support it and make it more successful.
"Click and collect is about getting people down there, down the Moor."
The Moor Market replaced Castle Market, which closed on 23 November after 54 years of trading.
It is part of a bigger development of the Moor shopping area in Sheffield.
Sheffield Council said about one third of Castle Market's 90 traders made the move.
Free rent extended
Traders were initially given free rent until May but this has recently been extended until August.
Now of the 190 stalls at the Moor Market, 162 (85%) are let and 29 (15%) are empty.
Mr Clement-Jones said click and collect was just one of the ideas to boost numbers using the market.
Other ideas include longer hours, Sunday opening, better bus links, free city centre parking and more publicity, he said.
Mr Clement-Jones said Kirkgate Market in Leeds was also considering an online ordering idea.