Freedom Riders protesters charged over Sheffield train protest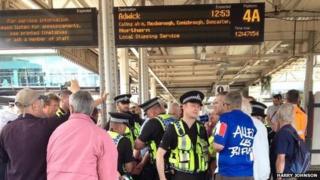 Two people have been charged with obstructing police following a protest by pensioners at a South Yorkshire train station.
British Transport Police said George Arthur of Church Street, Barnsley had been charged with obstructing a police officer and fare evasion.
Anthony Nuttall of Honeywell Grove, Barnsley is charged with obstructing a police officer.
The pair have been bailed to appear at Sheffield Magistrates' Court on 7 July.
The duo are involved with the Freedom Riders group, which wants free travel for the elderly to be restored in South Yorkshire.
South Yorkshire Passenger Transport Executive cut free travel for pensioners and disabled people in South Yorkshire from 31 March, saying the changes brought the area's concessionary travel "in line with bus and rail schemes across much of England".