Lee Pearson jailed again for sexually exploiting girls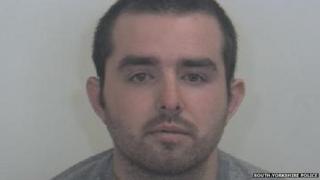 A man who was previously jailed for killing a boy in a hit-and-run has been sentenced for sexually exploiting two 15-year-old girls.
Lee Pearson, 28, from Rotherham, was found guilty of rape, serious sexual assault and six counts of sexual activity with a child.
At Sheffield Crown Court on Tuesday, he was jailed for six years.
In 2005, he was jailed for four years after killing a 16-year-old scooter rider while driving a stolen car.
South Yorkshire Police said Pearson, of Katherine Road, befriended the girls when they were both 14 and the abuse began several months later in September 2011.
'Brave young girls'
He assaulted both girls on numerous occasions and threatened one of his victims with violence.
The abuse continued for almost a year before one of the girls contacted police in August 2012, police said.
Det Con James Crossley, from South Yorkshire Police's Child Sexual Exploitation Unit, said: "This man exploited these girls, who were vulnerable due to their age, for his own sexual gratification.
"Pearson lied to police and denied the allegations put to him, despite forensic evidence to the contrary, and forced his victims to go through the ordeal of a court case.
"I would like to commend the bravery of both young girls for reporting it to police and for facing their attacker in court."
Pearson denied all the charges during a seven-day trial.