Orgreave campaigners call for BBC strike coverage apology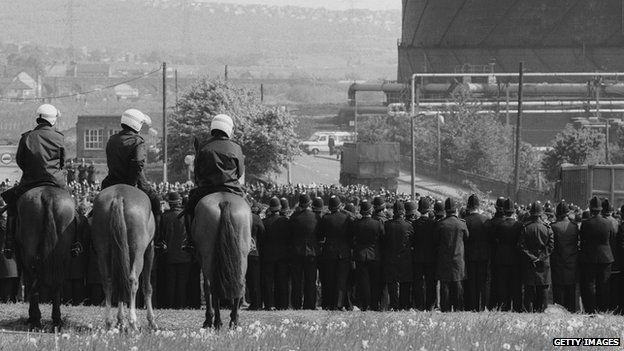 Campaigners have called on the BBC to apologise for the way it covered a clash between striking miners and police at Orgreave 30 years ago.
The corporation broadcast footage of a police charge and miners throwing missiles in the wrong order, campaigners said.
About 10,000 miners and 5,000 police officers were involved in the clash in South Yorkshire on 18 June 1984.
The BBC said it had "no evidence of any deliberate attempt to mislead viewers".
Meanwhile Ed Miliband, Labour leader and MP for Doncaster North, told BBC Look North he was committed to having a "proper investigation" of what happened at Orgreave.
He said: "I'm making a very, very clear promise that, both in opposition - and we are going to have a vote on this in the House of Commons - and in government, we will make sure that there is a proper investigation, that we do get to the bottom of what happened at Orgreave so that justice can be done."
Barbara Jackson, secretary of the Orgreave Truth and Justice Campaign said "I think they owe us an apology over the particular incident when the Orgreave footage was reversed."
Speaking as part of BBC Radio Sheffield's documentary Auntie and the Miners, Mrs Jackson called for the BBC to apologise over its reversal of the footage.
She also said other media outlets should apologise for their coverage of the miners' strike as a whole.
Ms Jackson said: "I think the media in general need to apologise for the way they portrayed the miners who were on strike, their families and their communities and the way they never grappled with the issue of jobs and communities and the future of what had been a major industry in this country.
"But apologies are very difficult to get out of people and sincere apologies are even more difficult to get out of people."
Echoing Mrs Jackson's comments Nicholas Jones, the BBC's industrial correspondent for radio at the time of the strike, said: "I think there's no doubt that perhaps there should be some sort of collective apology by the media for what happened."
A spokesman for the BBC said: "Thirty years on, it is difficult to reach definitive conclusions, but our investigations have uncovered no evidence of any deliberate attempt to mislead viewers in the coverage of the Battle of Orgreave."
He said the BBC had "failed to record some of the violence due to a camera error".
Minutes from an editorial meeting the day after the clashes record that concerns were raised about impartiality in some of the coverage, he said.
But they appeared to conclude that any problem amounted to a "marginal imbalance" and did not justify the NUM's claims of BBC bias.
Related Internet Links
The BBC is not responsible for the content of external sites.