Nether Haugh: Safety improvements for B6089 crash road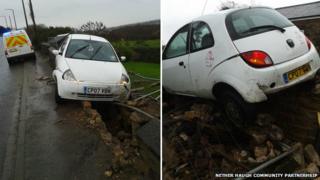 A village where there have been a spate of car crashes since January has been told road safety changes will be made.
Last month, residents living on a half-mile stretch of the B6089 Stubbing Road, Nether Haugh, near Rotherham, warned lives would be lost.
Rotherham Council said it shared residents' concerns.
High-friction surfacing on the approaches to the village and enhanced road markings would be installed as a "priority", the council said.
The speed limit has already been lowered to 40mph from 60mph on the approaches to the village. Through the village the speed limit is 30mph.
'Nothing discounted'
The Nether Haugh Community Partnership claimed there had been 25 crashes up to the end of May although no-one had been seriously injured.
Residents have called for speed cameras to be installed and the introduction of a 20mph speed limit through the village.
Councillor Gerald Smith, cabinet member for highways, said the authority was discussing a range of options to improve safety with the police and residents.
He said nothing had been discounted.
"Investigations will involve looking at the circumstances of the collisions, vehicle speeds and gathering video evidence of driver behaviour," he said.
"In the meantime, as a first step to improving road safety following initial investigations, it is proposed to provide high friction surfacing around the bends at either end of the village and enhanced road markings at the changes in speed limit.
"This work is being given priority and will be carried out as soon as a contractor and the necessary traffic management can be arranged, which may involve a short term road closure."
High friction surfacing provides extra grip for drivers negotiating a bend and is also very visible, he said.