South Yorkshire Police Hillsborough funds approved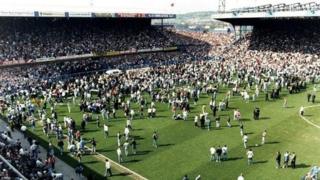 South Yorkshire Police have been awarded additional funding from the Home Office to cover its legal costs during the Hillsborough inquests.
The money will pay for legal teams for the force and its former officers.
The region's Police and Crime Commissioner Shaun Wright said the funding was essential to ensuring the inquests left "no stone unturned".
Ninety-six people died after a crush at the Liverpool v Nottingham Forest FA Cup semi-final in Sheffield in 1989.
A spokesperson for Mr Wright said the funding was not for a specified financial value, adding "the detail will be worked through between Home Office officials and the PCC's staff".
Mr Wright said: "The funding of these legal teams is essential to ensure the inquests can properly explore all aspects of the day, its planning and aftermath leaving no stone unturned."
The money will fund legal teams representing current Chief Constable David Crompton and four teams of former South Yorkshire Police officers.
Mr Wright said the special grant application was made to ensure that dealing with the Hillsborough inquests did not "adversely impact" on policing in South Yorkshire.
Special grants can be provided to police forces facing unexpected or exceptional costs exceeding 1% of their annual budget.
A Home Office representative confirmed it had approved the additional funding.