Sheffield council to borrow £55m to kick-start shopping centre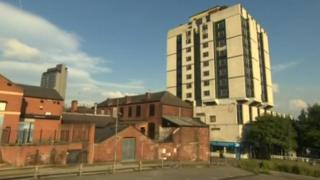 A £55m loan is to be used to kick-start development of a delayed shopping centre, Sheffield council has said.
Plans for the Sevenstone centre were shelved last year and the developer Hammerson was kicked off the project.
The local authority said it would use the loan to buy buildings needed for its planned "New Retail Quarter".
Labour councillor Leigh Bramall said a number of developers were interested in the project but if necessary the council would develop the area itself.
Plans for the proposed new 600,000 sq ft (56,000 sq m) £165m development, which will use the existing street layout, will be revealed next month.
Demolition work is expected to begin next year with construction completed in 2019.
The original plan was for a large £400m shopping centre but it was put on hold due to the economic climate in 2007 and the council severed ties with Hammerson last October after repeated delays.
"The world's changed and it's probably unlikely that we're going to get a similar all-in-one scheme with one single developer," Mr Bramall said.
"The big difference between this proposal and the previous one is that this is the council taking control of the scheme to drive it forward."
He added that the council had received 24 "significant" expressions of interest since announcing plans to launch an investment fund to attract partners in March.
Richard Wright, executive director of Sheffield Chamber of Commerce and Industry, said: "It is a critical development for the city and we applaud the extremely positive message this sends and the ambitious timescale it lays out."
The loan will be repaid using profits from the scheme, the council said.