Queen's Baton Relay comes to Sheffield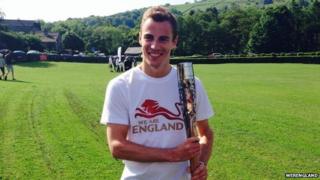 The Queen's Baton Relay has arrived in Sheffield on its tour of the country in celebration of the summer's Commonwealth Games.
It will visit local landmarks at High Bradfield, the Concord Sports Centre and the English Institute of Sport.
World Championship squash player Nick Matthew will join community heroes to welcome the relay to the area.
He said: "I am thrilled to be part of the Queen's Baton Relay in my home town."