George Thompson funeral: Hundreds attend RAF veteran's send-off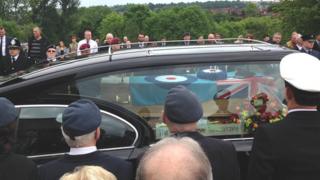 About 400 mourners have attended the funeral of a World War Two veteran from Sheffield who had no surviving family.
Former RAF officer George Thompson served as a bomber pilot and later as a night fighter pilot flying in Burma.
The 96-year-old died in a care home on 14 May.
The Royal Air Forces Association (RAFA) Rotherham issued an appeal for people to attend Mr Thompson's funeral, saying he deserved "a decent send-off".
'Deserves respect'
Joining the RAF when he was 24, Mr Thompson's wartime duties included flying night interception missions and patrolling the skies above the Burmese jungle looking for Japanese incursions.
He left the RAF in 1946 with the rank of warrant officer.
Derek Padgett, from RAFA Rotherham, said the response to the appeal for mourners at Mr Thompson's funeral had been "unbelievable".
"I'm very pleased that he is getting the respect he deserves at the end of his life, I really am.
"He could have sat the war out, because he was in a reserved occupation, but he was determined and he applied about six times. That to me makes him a hero without anything else that he's done."
Among those in attendance at Hutcliffe Wood Crematorium in Sheffield were representatives of the Queen's Colour Squadron, based at RAF Northolt, The Royal Artillery, RAF Marham, in Norfolk, the Air Training Corps, and members of the Doncaster, Barnsley, Leeds and Hull RAFA branches.
South Yorkshire Police also sent a mounted guard of honour.
Mr Thompson's coffin was carried into the crematorium draped in an RAF flag.
About 200 people were inside with 200 more outside, where the service was relayed via loudspeakers.
'Complete stranger'
One of those attending the funeral, Mary Marsden, 92, from Jordanthorpe, Sheffield, was a cook with RAF Bomber Command for seven years and a member of the Sheffield RAFA.
Mrs Marsden said while Mr Thompson was "a complete stranger" she was attending because the RAF was a "family".
"We always help each other out - all for one and one for all," she said.
Also attending was Keith Wilson, a former neighbour of Mr Thompson.
Mr Wilson said: "He used to tell us stories. We knew he was a pilot in the war. He would tell us various anecdotes, which I'm sad to say I have forgotten a lot of.
"It's great to see a big turnout but we wanted to make sure there was a personal aspect.
"I'm sure the response would have knocked him sideways."