Nether Haugh: Death fears over B6089 crash road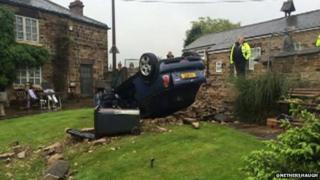 Residents in a village plagued by a spate of crashes have renewed a warning lives could be lost after the accident toll rose to 24 since January.
Steve Challinor, from Nether Haugh near Rotherham, South Yorkshire, called on the council to "get your finger out before somebody is killed".
Mr Challinor said living in the village on the B6089 was "pretty scary".
Rotherham Council said warnings had been put up and the speed limit reduced from 60 to 40mph on the approach road.
Mr Challinor, chairman of Nether Haugh Community Partnership, said there had been 24 crashes since January and an action group of local residents had been formed.
In February villagers said 14 crashes had occurred since January.
Insurance problems
The latest crash happened on Wednesday when a car came off the road and ended up in the garden of village resident Ted Grayson.
Mr Grayson said: "Cars keep coming into my garden on a regular basis.
"We've had four this year."
Mr Grayson said he was wary of using the kitchen in his house because of the incidents and he often lay awake thinking "this is the next one".
He said he was unable to get house insurance because of the crashes.
Karl Battersby, of Rotherham Borough Council, said: "We have also received a request from the Nether Haugh residents for a 20mph speed limit together with camera enforcement but unfortunately the site meets neither the criteria for 20mph speed limits nor for fixed safety cameras."
He said the council's accident database recorded only one injury-causing accident up to the end of March.
"The remainder must be damage-only collisions, which are not taken into account in the assessment criteria," he added.
He said the majority of motorists driving through the village do so safely within the current 30mph limit.