Doncaster mental health unit kidnapper absconds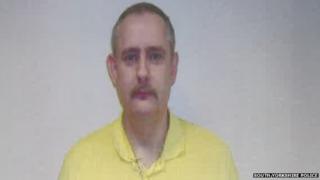 A convicted kidnapper has absconded from a secure mental health unit in Doncaster.
David Burslam, 49, was on an escorted trip to the town centre from Cheswold Park Hospital in Cheswold Lane, when he fled staff.
After being convicted of the kidnapping in 2009, Burslam was given an indeterminate sentence.
He was last seen heading towards Doncaster railway station and police have urged people not to approach him.
In a statement, South Yorkshire Police said: "Detectives believe he may be making his way out of the immediate area in an effort to contact friends or family.
"He has friends and family in Manchester, Hull and Derbyshire but could be travelling anywhere in the country."
Burslam is described as being about 6ft tall and of a stocky, muscular build.
He has mousy blonde, short hair and was last seen wearing a dark grey coat, grey tracksuit bottoms and white trainers, police said.