England team's first Romany footballer 'deserves recognition'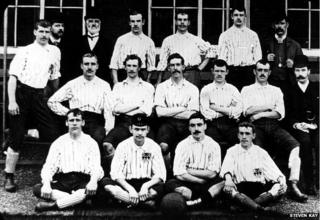 In 1895 Rabbi Howell made history as the first Romany footballer to play for England, but 119 years on the pioneering player lies buried in an unmarked grave. Now as an appeal to raise funds for a headstone begins, what is the story behind Howell's ground-breaking career and have sporting attitudes to the Romany community changed?
Howell was born in 1867 in a Gypsy camp in Dore, Sheffield.
Steven Kay, who has written a book on Howell, said: "His birth certificate suggests he was born in a tent as there were no houses at the address given.
"He must have been an itinerant at the time."
Howell's family then moved to Ecclesfield, to the north of Sheffield, where he went on to earn a living as a miner and play football with the local amateur side, playing in central defence.
After a spell with Rotherham Swifts he signed his first professional contract with Sheffield United in 1889, before joining Liverpool in 1898, just days before United were crowned league champions.
His transfer to Merseyside is shrouded in controversy, with some claiming he was hurried out of the door because of match-fixing allegations.
However, Mr Kay said it was his belief Howell had left his wife and young family for another woman and Sheffield United were keen to hush up what would have been a "huge scandal" in Victorian England.
He then left Merseyside in 1901 to join Preston North End, where he played until 1903 when a broken leg ended his career.
Throughout his career Howell was known in the newspapers as "The Gypsy", a nickname Mr Kay said Howell would play up to, often saying he lived in a caravan in the woods.
But, he said: "He was just pulling their leg. He just let them think what they wanted to think."
Howell's background was also seized upon by teammates.
Ernest Needham, who played with Howell at Sheffield United and at national level, once wrote: "... a gypsy by birth, [he] perhaps owes some of his inexhaustible vitality to his lucky parentage."
However, Mr Kay said it was possible his "lucky parentage" may, in fact, have prevented him from making more than just two appearances for England.
Howell's first cap came in 1895, scoring in a 9-0 victory over Ireland, but he had to wait until 1899 to claim his second.
Mr Kay said one possible reason for his lack of England caps was that football had a "sentimental attitude to 'gentleman players'", adding that Howell was "anything but".
He said: "Class was a very strong thing and it might be more class than anything.
"Selection of the England team was clearly based on background and I think the fact that Rabbi only got two games for England must be down to background, whether that's race or class or attitude it is hard to say."
He said that though Howell's international career may have been limited by his background it was unclear whether he was subject to any abuse because of his Romany roots.
"There's no evidence for it, to say he got abuse, but then even if he had I do not think the newspapers would have said as they were too straight-laced to even discuss that," he said.
However, 119 years later Romany players clearly are abused as a result of their background.
'Proud to be Romany'
Earlier this year Portugal striker Ricardo Quaresma - also known as 'The Gypsy' - told Portuguese newspaper O Jogo racism was rife in the country.
He said: "When I hear people say there is no racism nowadays it makes me laugh. When something happens in Portugal it's always the fault of gypsies, blacks, immigrants. It's tough to live with this."
Quaresma is one of a number of high-profile players of Romany descent, including Eric Cantona, Andrea Pirlo, Hristo Stoichkov, and former Southend United and Coventry City player Freddy Eastwood.
However, their achievements appear to have done little to stop the abuse directed at players with Romany heritage.
Lizz Bennett, a community education worker for Show Racism the Red Card, said racism towards the Gypsy, Roma and Travelling community was "widespread and strongly felt".
She said: "The stereotypes of people from Gypsy, Roma and Travelling communities are stark, crude and fixed.
"Whether in a classroom in Sunderland or south London, gypsies are thought of by many as violent, aggressive, dirty thieves who live in caravans, have horses and don't pay tax.
"Freddy Eastwood, a Traveller born in 1983, and a successful professional footballer, is proud of his Traveller heritage.
"However he has sadly had to deal with racism from football fans, who have made comments about him living in a caravan and being a Gypsy.
"So, it is difficult to say whether Rabbi Howell would have had an easier or more difficult time, it is certain to say that racism has formed a significant part of our past, and continues to remain a real and persistent problem in contemporary Britain, so the fight is by no means over."
Mr Kay said that evidence of professional Romany footballers was not easy to come by.
He said: "Only very recently have people started admitting it.
"I do not think it is something that people admit to. It is only recently with Riccardo Quaresma, Andre Pirlo, and Freddy Eastwood who are coming out and saying they are proud to be Romany. Before that it was almost as if people did not want to talk about it.
"There must have been players in between... but there's not much written about it."
Now, Mr Kay is behind a campaign to raise £1,000 to buy a headstone for Howell's grave.
He said: "We need a headstone for Rab.
"No-one who has played for their country should be buried in an unmarked grave.
"We need to recognise him as a pioneer - the first professional Romany footballer."