Jasmyn Chan: Police bail 32-year-old man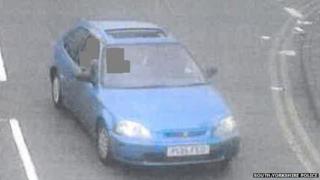 A man who was arrested on suspicion of causing death by dangerous driving over a fatal hit-and-run crash has been bailed by police.
Jasmyn Chan, 14, was killed when she was hit by a vehicle at Normanton Hill in Sheffield on 9 May.
South Yorkshire Police said a 32-year-old man had been released on bail.
Officers are still trying to find a car in connection with the teenager's death. It is a blue-green Honda Civic, registration P135 FEO.
Jasmyn was crossing the road with a 12-year-old friend when she and the second girl were hit.
Police have said that Jasmyn's last actions were "to push her friend from danger".
The 12-year-old girl was treated in hospital before being released on Saturday.
Jasmyn's parents, Peter Chan and Paula McCullie, had earlier spoken of their loss.
Mr Chan said: "Our daughter was beautiful, inside and out. I cannot put into words the pain and devastation I feel in my heart knowing she is gone.
"As a family we are heartbroken and we don't know how we will ever get over losing Jasmyn."