Labour looks to increase its grip in South Yorkshire elections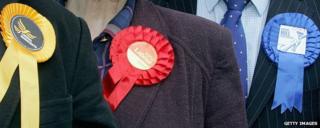 Labour is looking to strengthen its grip on all four of South Yorkshire's councils when voters go to the polls later this month.
Labour has had a big majority of councillors in Rotherham, Doncaster and Barnsley for at least 40 years.
Sheffield City Council, the biggest prize of them all, has had a less-than-stable political history.
Control has regularly swapped between Labour and the Liberal Democrats since the mid-1990s.
In fact, by early 2010, with Nick Clegg as one of its MPs and a majority on the council, the Liberal Democrats booked the city hall as the venue for the party's spring conference the following year.
Lib Dem collapse
Unfortunately they had not counted on the fallout from the general election and the formation of the coalition government which took place just a few weeks after the conference venue was chosen.
The conference was besieged by angry demonstrators and the party's support in Sheffield collapsed at the council elections which took place a few weeks later.
Liberal Democrats had to hand over the keys to the leader's office at the town hall and Labour has had them firmly in its grip ever since.
The pain for the Liberal Democrats might not yet be at an end as the seats being contested this time around last went to the polls before the coalition government was formed.
That is because South Yorkshire councils use the "thirds" election system.
Only a third of the seats are contested every year because just one of the three councillors elected to each ward comes to the end of their term of office and either retires or stands for re-election.
More challengers?
In recent years the Conservatives have been squeezed hard across South Yorkshire with none at all in Sheffield or Rotherham.
But there are claims from other parties that Labour will not entirely have its own way this time around.
UKIP has not won a seat in a South Yorkshire council so far, but it has increased its challenge since coming second in the Parliamentary by-elections in Barnsley in 2011 and Rotherham in 2012.
This year it is fielding more council candidates than ever before.
Labour also faces a challenge from the Trade Union and Socialist against Cuts campaign, which it says it is launching the biggest challenge to Labour from the left in 60 years.
It is putting up candidates in a third of the seats across the region.
Added to the mix is a strong tradition of independent groups of councillors in Barnsley and Doncaster.