Sheffield police stations bomb hoaxer Amanda Pinder jailed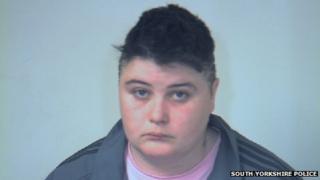 A woman who threatened to blow up every police station in Sheffield in a series of hoax calls has been jailed.
Amanda Pinder, 33, made the threats to South Yorkshire Police four days after the 2013 Boston Marathon bombings.
In one call she said: "I'm going to blow the lot of you up. You'll all die."
Pinder, of Norfolk Park, Sheffield, admitted four counts of communicating false information. She was jailed at Sheffield Crown Court for four years.
The court heard Pinder made four calls and sent one text message to police between 19 and 20 April, while Sheffield was hosting the World Snooker Championship.
In one call she said: "I'm going to set a bomb off at Attercliffe, Bridge Street and Moss Way. I'm going to blow the lot of you up. You'll all die."
In a second call she told the call handler: "If I could get down this phone I would slit your throat."
'Enormous fear'
She went on to claim she had placed bombs in every police station in Sheffield and also in the homes and cars of police officers.
Pinder named herself in one of the calls and was arrested on 21 April.
Prosecutor James Baird said: "These calls caused considerable concern and fear within the emergency services."
He said the timing of the calls meant police were "concerned about the safety of the public".
Defence counsel Katherine Goddard said her client was "deeply troubled" and suffered from "long standing, significant mental health problems".
She added: "When asked if she knew where Boston was she had no idea let alone that there had been such a significant event four days before."
Judge Robert Moore rejected the claim, saying: "You would have to be a hermit who had neither a television nor a radio not to know of the Boston bombing."
Pinder, who has previous convictions for making nuisance calls, pleaded guilty in February.
Supt Shaun Morley said: "Hoax calling is not a victimless crime. It creates enormous fear and disruption for all concerned and also requires significant resources from the emergency services."