Man arrested after Rotherham Town Hall 'hammer' incident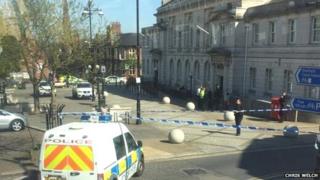 Police have arrested a man who was believed to have been armed with a hammer after an incident at Rotherham Town Hall.
The 36-year-old is being questioned by officers on suspicion of burglary.
South Yorkshire Police earlier sealed off the building as they negotiated with the man, but said he eventually left of his own accord at 19:30 BST.
No-one else was thought to have been in the building at the time of the incident.
Police arrived at the town hall at about 09:45 BST on Saturday after reports of an alarm being triggered.
Specialist negotiators were brought in to talk to the man, a cordon was put in place and traffic diverted from the nearby Crofts area.