Sheffield's Jimmy Connors, 17, guilty of Joe Walker murder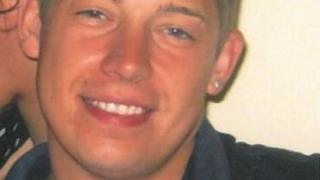 A 17-year-old youth has been found guilty of murdering a man he stabbed at a party in Sheffield .
Jimmy Connors, of Atherton Road, Arbourthorne, Sheffield was convicted at the city's crown court.
Joe Walker, 23, from Intake, was found stabbed close to Raynald Road in the Manor area in the early hours of 21 September last year.
Connors, who denied murder, was arrested two days later is due to be sentenced on Tuesday.
In a statement, Mr Walker's parents said: "People need to think twice about carrying and using knives. It only shows their weaknesses.
"We are still numb from Joe's death. Our lives have been turned upside down and the loss of Joe is difficult to describe.
"At home there is silence no laughing or joking - just tears and photographs of happier times."