Sheffield Supertram marks 20-year journey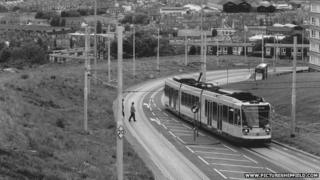 It is exactly 20 years since trams rolled into Sheffield. A total of 15 million journeys are made on the network every year and now extensions are planned on the line. But, two decades on has it been a success?
It must be the only public transport system to have an announcement to "hold tight please".
The trill ring of its bell is a sound Sheffield would now seem strange without, but it has been a bumpy ride for Sheffield's Supertram.
The city was actually one of the last places to stop using its original trams. The trolley buses came off the road in 1960 as car-use in South Yorkshire rocketed.
Supertram was first announced in 1985 and the stretch of track connecting Sheffield city centre with the new Meadowhall Shopping Centre opened in March 1994.
On the same day, a little known local band was just releasing their latest single Do You Remember the First Time. Pulp were to be more successful than the Supertram in the 90s.
More than 30 years after they had left the streets, trams had returned in Sheffield, but they were not popular.
For the first few years the scheme was seen as a failure. Cheaper, more regular buses were still the best way to get around the city and passengers trusted their commutes to wheels rather than rail.
Labour councillor Peter Price, then deputy leader, said it was a "nightmare" time to be at the authority.
"Because the roads took so long to do there were massive problems for retailers getting the shoppers in," he said.
"It was a very controversial period, but hopefully people looking back think it was worthwhile."
The first predictions of passenger numbers were well off the mark and there was concern the £240m it took to build the system was looking like poor value for money.
People in South Yorkshire were paying for a network that looked like it was not going anywhere. Who should bear the cost became a big issue.
In 1998, a deal was done with the then Labour government so that costs were reduced, but people living in South Yorkshire were paying 5p a week each for Supertram. And they will still be paying for it for another 10 years.
While there were initially plans to cover more of South Yorkshire, with lines running to Barnsley and Doncaster, that has never happened and there has been considerable frustration for people outside Sheffield that they are paying for something they do not use.
Fifteen million journeys are now made every year on the system and it is now profitable according to Stagecoach, which has the contract to run it until 2024.
Twenty years on, with a wider network and plans for extension, Sheffield's Supertram is regarded as one of the city's success stories.
Neighbouring Rotherham will soon see trams rolling into town with work expected to start this year on the government's ambitious Tram-Train project.
Rails in Sheffield city centre are being replaced and new rolling stock is being ordered. The trams will run from the centre of Sheffield on tram tracks then will share the railway line to Rotherham with trains.
Councillor Leigh Bramall, responsible for business, skills and development, said it will be an important link.
"Rotherham and Sheffield are a single urban area - people work and live between the two areas and constantly travel between them," he said.
"We've had this crazy system where because we've been different local authorities, transport links haven't been as good as they perhaps should be."
The row over where Sheffield's High Speed rail station should go may mean another extension for Supertram. If the station is at Meadowhall, there are plans to put a tram line southwest of the city to Dore to help commuters.
There is also an idea to create a line serving Sheffield market and Ecclesall Road but that will be dependent on investment and looks unlikely in the near future.
Now apparently a part of Sheffield as Henderson's Relish, soon Supertram will be branching out to other parts of South Yorkshire. Just perhaps 20 years too late.