Doncaster Care UK workers stage seven-day strike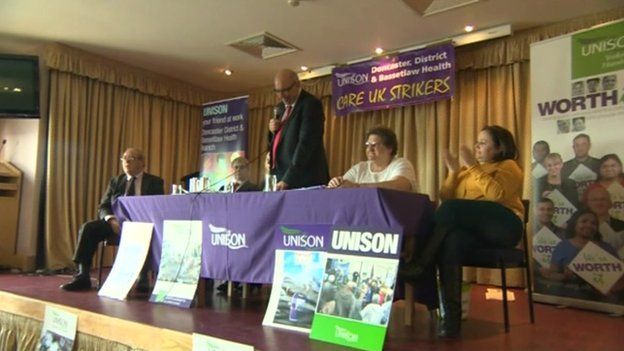 About 150 care workers have begun a second seven-day strike over changes they claim could see some workers lose up to 50% of their take-home pay.
Unison members employed by Care UK in Doncaster claim their income would drop due to changes to rates for evening and weekend work.
Care UK rejected the claim and said the proposed changes would protect jobs.
It cares for 140 people with learning disabilities in around 40 properties in Doncaster.
Union members previously walked out for seven days at the end of February.
Unison said the fresh action followed the breakdown of talks at the conciliation service Acas.
Jim Bell, regional organisers for Unison, said: "We are bitterly disappointed that talks to resolve this strike in a fair and sensible way have been thwarted by Care UK who are still proposing to cut take home pay by up to 50 per cent.
"Management are forcing our members into a strike which is causing them real hardship and heartache."
UK Care said it remained committed to finding agreement with Unison.
Chris Hindle, director of Care UK's learning disability service, said: "The basic pay of all employees within the service is being fully protected and all colleagues who transferred to Care UK will continue to be members of the valuable NHS final salary pension scheme.
"Care UK is proposing to review the rates and opportunities for things like working evenings or weekends, bringing paid annual holiday which, for some people, is currently close to seven weeks on top of public holidays, and sick pay, into line with what is more normal for this sector."
Related Internet Links
The BBC is not responsible for the content of external sites.