Vandals destroy 35 trees in attacks around Hoyland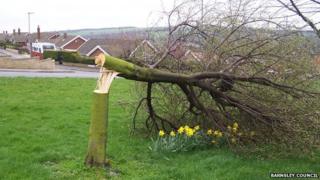 Vandals have destroyed 35 trees in South Yorkshire by sawing through the trunks in an act of "wanton vandalism".
The attacks took place near Barnsley at Clough Fields Road, Wharncliffe Close and Milton Road in Hoyland, and Elsecar Park.
None of the damaged trees, between six and 30 years old, could be saved, Barnsley Council said.
The police have been informed. The vandals cut many of the trees all the way through and others left unstable.