Barnsley horse rescued from River Dearne by firefighters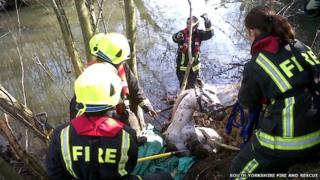 A horse that fell into a river in Barnsley has been rescued by firefighters.
The horse, called Romeo, was trapped between the river bank and overhanging trees after it fell backwards into the River Dearne.
Firefighters had to dig through the bank to free the horse, which became trapped at about 10:00 GMT.
South Yorkshire Fire and Rescue Service said it was sedated during the two-hour rescue and was unharmed.
Station Manager Simon Dillon said: "It was an unusual and particularly difficult rescue as he had fallen backwards into the river and become wedged between trees overhanging and the bank.
"Our firefighters worked extremely hard to dig away the bank. The large tree roots in the banking made that really difficult, but we got there in the end.
"Other than a couple of scrapes where he had tried to get out himself, he was unharmed by the experience."