Beighton house fire victim Richard Hobson was 'lovely' uncle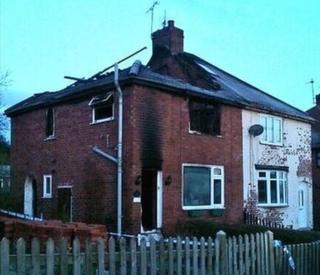 The niece of a man killed in a house fire in the Beighton area of Sheffield has paid tribute to her "lovely" uncle.
Louise Edwards said her uncle, Richard Hobson, 61, died in the blaze at the house he shared with his mother and sister in Poplar Avenue on Monday.
Mrs Edwards said: "He was a lovely man, he really was. Nobody had a bad word to say about him."
South Yorkshire Fire and Rescue said the cause of the fire was under investigation.
Mr Hobson's body was found by fire crews on the first floor of the property at about 16:10 GMT.
Mrs Edwards said Mr Hobson had finished work and had been asleep when the fire started.
She said her grandmother, Kathleen Hobson, had been outside hanging out her washing and had tried to wake her son but was unable to raise him.
Her aunt, Anne Hobson, was not at the property.
Speaking of the family's loss, she said: "[My grandmother] is frail and she can't shout loudly and she just could not wake him up.
"Not only have they lost their worldly possessions and everything that they knew and owned - the sentimental things - but my grandma has lost a son and my family has lost an uncle and brother. It's horrific.
"It's when things like this happen that you realise how precious life is."
Andy Strelczenie, from South Yorkshire Fire and Rescue, said an investigation into the fire was under way, adding: "Early indications are that there does not appear to [have been] any working smoke alarms."