Barnsley Council raises tax and cuts posts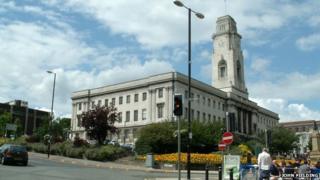 Barnsley Council is to raise council tax by 1.9% and cut 45 posts in an attempt to save £27m from its budget over the next two years.
The Labour-run authority said it acknowledged "the difficult budget decisions that have to be made".
Other measures include increases in fees for burials, marriage ceremonies and parking permits.
Labour councillor Alan Gardiner said the council had lost 40% of central government funding since 2010.
The budget, which was voted through unanimously, also includes plans to phase out council tax discounts for over 65s.
The council said the new budget would see expenditure of £186.8m for the year, with £112.7m of that coming from the government. The rest of the money comes from council tax and other grants.
Mr Gardiner, who is responsible for corporate services, said the council had saved £59m and cut 760 posts over the past few years.
"The days of the council being able to provide borough-wide services for as many people as possible are gone," he said.
"We started on this path early and were able to save costs in a planned, considered, well-managed manner.
"However, that doesn't mean to say we haven't been hit hard."