One Direction: Louis Tomlinson's Doncaster Rovers 0-0 debut draws crowds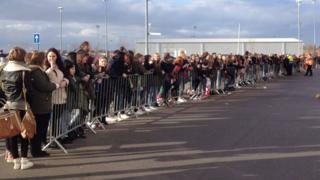 Doncaster Rovers reserve games do not usually attract fans from across Europe - nor queues hours before kick-off.
But when a member of One Direction is in the line-up things can be quite different.
Fans of boy band star Louis Tomlinson are believed to have travelled from as far afield as Denmark, France, Italy and the US to see his debut match.
Yorkshireman Tomlinson joined Rovers on a non-contract basis last summer but this was his first match.
Doncaster's Keepmoat Stadium is, of course, no stranger to crowds. After all, week after week legions of red and white-clad Rovers fans descend on the ground.
Thousands come to watch their heroes perform, to sing and cheer their team to victory. In fact, about 10,000 turned out for the Championship clash against South Yorkshire rivals Barnsley on 15 February.
However, when the first team are not at home it is only the diehard few who make the journey to watch the reserves play, with an average crowd of about 100.
Wednesday's match against Rotherham United in aid of Bluebell Wood Children's Hospice was different, though, with the club saying more than 4,000 tickets had been sold.
Fans had to wait for the 65th minute of the game, which was a 0-0 draw, to catch the pop star in action but did not seem too upset, even when he fell on his backside attempting a pass in the 89th minute.
Outside the Keepmoat, the usual red and white shirts were replaced with brightly coloured T-shirts.
The pre-match banter was swapped for conversations about favourite members of the group and the songs were more likely to be Story Of My Life and What Makes You Beautiful than Rovers Til I Die.
By 16:00 GMT a crowd of several hundred, predominantly teenage girls, had already amassed outside the ground for a game not due to start until three hours later.
Lucy Nowak, 18, from Chesterfield, and 15-year-old Sahar Ghadirian, from Sheffield, had been waiting since 15:00 GMT to catch a glimpse of the Bessacarr boy turned pop sensation.
"We bought our tickets the day they came out," said Lucy.
"I just want a photo. I've got three but they are all rubbish so I want to try and get a proper one."
"We have been fans since the X-Factor," added Sahar.
Amanda Fairham, from Barnsley, came with her daughter Isabelle, 12, and friend Holly, also 12, who described themselves as "hardcore Directioners".
"I'm not really a football fan," Isabelle said. "But if Louis is playing then I am."
Mrs Fairham said: "Isabelle has been excited for quite a while.
"She's a big fan. I had to put my foot down a bit about what time we would get here, as I had no idea what time anyone else would be turning up. It's just a good job the weather is nice."
Ashley Naubert had travelled especially from Michigan in the USA.
"I just had to jump on the opportunity," she said.
"This was a spur of the moment decision made three weeks ago. I had to come. It's a chance to see him from a different perspective."
Doncaster Rovers fan Matthew Jobson brought his daughter Georgia, 11, to the game having queued outside the ground for tickets the day they went on sale.
Mr Jobson said: "We come to a few reserve matches but there's normally only about 30 or 40 people.
"This is great for the club."
Georgia, wearing a specially-made shirt bearing Tomlinson's name, said: "When I first found out he had signed for the club I had the shirt made.
"I was really excited but I never actually imagined I'd get to see him play.
"I like them all but Harry [Styles] and Louis are my favourites."