Amanda Spencer trial: Girls 'were lured into prostitution'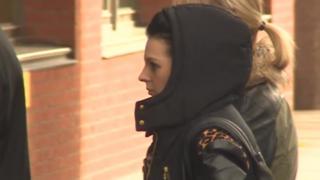 A woman used drugs and alcohol in order to befriend teenage girls and lure them into a life of prostitution, a court has been told.
Amanda Spencer, 22, had taught the girls how to dress provocatively and lie about their age, a jury at Sheffield Crown Court heard.
Miss Spencer denies almost 40 charges relating to child prostitution between 2006 and 2011.
Five men also deny charges relating to the exploitation of underage girls.
The prosecution allege Miss Spencer exploited nine teenage girls whom she befriended and introduced into prostitution. She is alleged to have begun this process when she herself was a teenager.
'Life of abuse'
The jury was told she had grown up in the care system like the majority of the alleged victims.
She was, the prosecution said, a fraud who pretended to be a friend and lured others into a life of abuse from which she benefitted.
Miss Spencer referred to the alleged victims' as her sisters but many were frightened of her, the prosecution argued.
She is accused of arranging or facilitating a child sexual offences, inciting or causing a child to become a prostitute and inciting or arranging or facilitating the prostitution of a child.
Lee Unwin, 26, and John McLachlan, 65, both deny paying for the sexual service of a child.
Kareem Ahmed, 29, is accused of arranging or facilitating travel for the commission of a sexual offence.
Bashdar Hamadamin, 26, faces a charge of rape.
A fifth man, who cannot be named, denies three counts of sexual assault.
The trial continues.