Mi Amigo Flying Fortress airmen remembered in Sheffield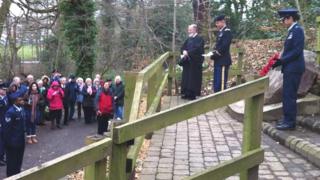 Ten US airmen who died when their B-17 bomber crashed in Sheffield 70 years ago have been remembered at a memorial event in the city.
The Flying Fortress, known as Mi Amigo, crashed at Endcliffe Park on 22 February 1944 while returning from a bombing raid on the Continent.
Wreaths were laid at the site of the crash during the event organised by the RAF Association.
A memorial service was also held at St Augustine's Church, Endcliffe.
'Instruments had gone'
The Reverend Gordon Unsworth, chaplain of the RAF Association in Sheffield, said the exact circumstances surrounding the crash of the Mi Amigo remained a mystery.
However, it seemed the B-17's pilot was looking for a safe place to land and "zeroed in" on Endcliffe Park, said Mr Unsworth.
"We know it had been over to the Continent and was coming back to its base further south.
"It was rather beat-up and its instruments had gone. The result was that it got lost and ran out of fuel over Sheffield."
Serving USAF staff from RAF Menwith Hill also attended the ceremony, alongside RAF Association members and local residents who lived near Endcliffe Park at the time of the crash.