Ryaheen Banimuslem balcony death: Sheffield man jailed over girl's fall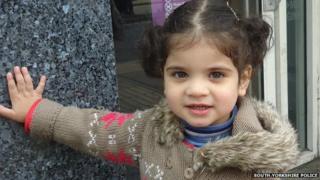 A maintenance worker has been jailed over the death of a girl who fell 60ft (18m) from a balcony in Sheffield.
Robert Warner, 45, was convicted of the manslaughter of two-year-old Ryaheen Banimuslem who died after the fall.
Ryaheen fell through a gap in a glass barrier in June 2012 after Warner removed a panel and did not replace it.
Warner, of Shiregreen, Sheffield, was found guilty at the city's Crown Court of manslaughter by gross negligence and jailed for four years.
The court heard Warner had removed the panel some days before the tragedy to replace another panel which had been smashed in a more prominent position on the barrier at the North Bank flats, in Willey Street.
Bryan Cox QC, prosecuting, said: "She passed through the gap in the barrier and fell to her death on to the ground immediately below.
"The accident was caused by the defendant's negligent conduct.
"He removed and failed to replace the panel from the walkway barrier."
During the trial Ryaheen's mother, Ola Al Fatle, sobbed in the witness box as she recalled the moment she realised her daughter had plunged to her death.
She said: "I didn't let her out of my sight usually."
She told the jury how she searched for her daughter when she realised she had strayed away from the garden where she had been playing with her brother in June 2012.
Miss Fatle said neighbours called her over and she saw her daughter had fallen.
She explained to the jury how she lived with her family on the eighth floor of the block of flats and they used the fourth-floor communal garden from time-to-time.
Miss Fatle told the jury how Ryaheen was born in Iraq but the family moved to the UK in 2011 as her father, Hikmat Banimuslem, was studying for a PhD in material physics at Sheffield University.
Speaking after the sentencing, Det Insp Sean Bird, from South Yorkshire Police, said: "This was a tragic incident which could so easily have been avoided.
"This has been a highly unusual investigation, in my 23 years of policing, I have never known a case like this.
"The guilty verdict of gross negligence manslaughter today will be of little comfort to Ryaheen's family, but I hope that the decision allows them to move forward from this very painful chapter in their lives.
"I would like to pay tribute to Ryaheen's family who have shown tremendous strength throughout this protracted investigation and to the team of dedicated officers and specialists who have worked tirelessly to bring this case to a conclusion."