Mathew Bandoo jailed for lipstick CS gas and stun gun haul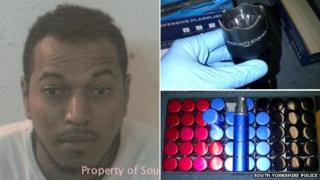 A man has been jailed for five years for possessing more than 100 stun guns and CS gas canisters disguised as mobile phones, torches and lipsticks.
Mathew Bandoo, 29, of Crosspool, Sheffield, pleaded guilty to possessing the items at Sheffield Crown Court.
South Yorkshire Police discovered the weapons in a parcel sent from China labelled "flashlights".
Bandoo, a former doorman, also pleaded guilty to possessing a quantity of the class B drug mephedrone.
Police found 52 stun guns and 50 CS gas canisters in the package from China and discovered four more stun guns and one CS gas canister in the property.
The gas canisters looked like lipsticks and the stun guns were disguised as mobile phones and torches, police said.
Det Con Bradley Ward said: "This was an unusual case in which these dangerous weapons had been made to look like everyday objects, concealing the potentially life-changing damage they could do."