Marius giraffe death 'saddens' South Yorkshire zoo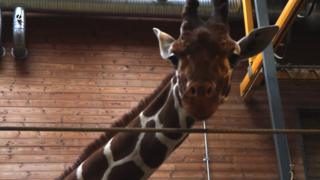 A South Yorkshire wildlife park has said it was "saddened" to hear a young giraffe had been put down at a Danish zoo.
Marius the giraffe was killed after Copenhagen Zoo said it had no choice but to destroy the animal because of its duty to avoid in-breeding.
Yorkshire Wildlife Park (YWP), near Doncaster, had offered to rehome Marius, but said its bid was rejected.
YWP was among several zoos which put in last-ditch offers to take the giraffe.
A park spokesman said: "Yorkshire Wildlife Park is saddened to hear reports from Copenhagen that 18-month-old giraffe Marius has been euthanized."
'All bids considered'
He said the park had contacted Copenhagen Zoo when news of the giraffe's plight was revealed.
"YWP has a state of the art giraffe house, built in 2012, with a bachelor herd of four male giraffes and the capacity to take an extra male, subject to the agreement of the European stud book keeper," he added.
"One of the YWP giraffes is Palle, who came from Copenhagen Zoo in September 2012, when he was the same age as Marius."
The park said without knowing the full details it would be inappropriate to comment further.
Marius was due to be killed by a bolt gun, not a lethal injection, which would contaminate the meat.
The carcass will partly be used for research and partly to feed carnivores at the zoo.
Bengt Holst, scientific director at the Danish zoo, said all zoos had been considered and there was no suitable place.