Simon Holdsworth death: Funeral for murdered Sheffield man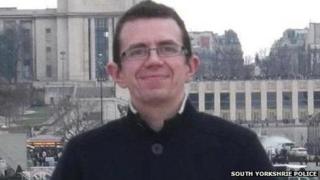 The funeral of a man found murdered in a field in Sheffield has taken place.
Simon Holdsworth's body was discovered by a member of the public in land off Birley Spa Lane in Hackenthorpe, on 17 December.
Mr Holdsworth, 36, died as a result of head injuries. A 45-year-old man arrested in January has been released on police bail.
The funeral was held at St Joseph's church in Handsworth, Sheffield.
South Yorkshire Police said Mr Holdsworth had finished work at FBS Prestige in Intake at 22:55 GMT on Monday 16 December.
A colleague gave him a lift to a bus stop on Mansfield Road, by the Noah's Ark pub, where he got the 120 bus shortly after 23:00.
He is thought to have got off the bus at his usual stop about 10 minutes later, near the Hogshead pub and Rainbow Forge Primary School.
His body was found the following morning.