South Yorkshire Police apply for Hillsborough inquest grant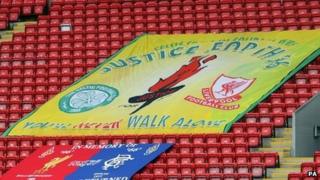 South Yorkshire Police have applied for a government grant to cover some of the costs incurred as a result of the new Hillsborough inquests.
Fresh inquests into the deaths of 96 Liverpool fans after a crush at an FA Cup semi-final match in Sheffield in 1989 are due to begin on 31 March.
The original verdicts were quashed in 2012 following an independent report.
Police have applied for Home Office money to cover legal fees, insurance, compensation and other costs.
Shaun Wright, South Yorkshire Police and Crime Commissioner, said it was not possible to put an exact figure on the costs for the force because of the "complexity" of the various investigations under way.
But he said they would be "significant".
The special grant application has been made to ensure that dealing with the Hillsborough inquests does not "adversely impact" on policing in South Yorkshire, he added.
A Home Office official said: "We can confirm that we have received a request from South Yorkshire Police for special grant funding in relation to the costs of the new Hillsborough inquests.
"The application is currently being considered and a decision will be made in due course."
Special grants can be provided to police forces facing unexpected or exceptional costs exceeding 1% of their annual budget.