South Yorkshire Olympic taekwondo medallist becomes freeman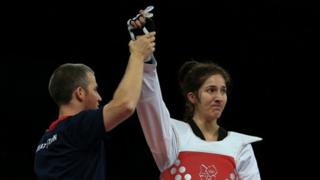 Olympic taekwondo bronze medal winner Sarah Stevenson has been made a freeman of her home town of Doncaster.
The 30-year-old won Great Britain's first ever Olympic medal in the sport at the Beijing Games in 2008. She also won the World Championship in 2011.
Ms Stevenson said she was "so happy" at being given the ceremonial title by the council.
She retired from the sport last year after competing at the 2012 London Olympics and now coaches the GB team.
Ms Stevenson was made an MBE in 2011.
"When you are growing up it's all about medals, but when you get to my age it's nice to get honours," she said.
'Biggest honours'
"The MBE, reading the oath at the Olympic Games and I also got the honorary doctorate from Sheffield Hallam University.
"But, to get an honour from the town where I was born, the town that is in my heart, the place where I feel I learnt everything that I know is one of the biggest honours I've got."
Ms Stevenson said the award was tainted with sadness as her parents, who both died of cancer in 2011, were not alive to see her given the title.
She becomes the 12th Doncastrian to be made a freeman of the borough.
Other holders include Roy Clarke, who wrote BBC television comedies Last of the Summer Wine and Open All Hours and opera singer Lesley Garrett.