Simon Holdsworth murder: Police renew appeal for help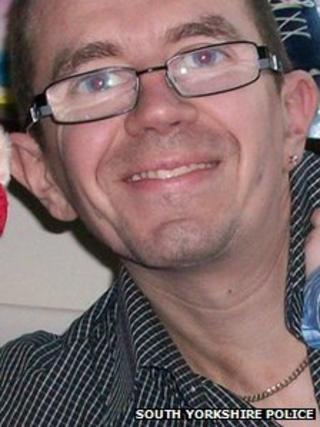 Police have made a fresh appeal to find the killer of a Sheffield man who was attacked on his way home from work in December.
Simon Holdsworth, 36, was found dead in a field off Birley Spa Lane in Hackenthorpe six weeks ago.
A 45-year-old man arrested in January has been released on police bail.
South Yorkshire Police have now urged people who were in the area on 16 December, particularly between 23:10 and midnight, to come forward.
Det Supt Phil Etheridge said police wanted to speak to everyone who was on the 120 First bus with Mr Holdsworth that night.
'Fullest possible picture'
"This is a quiet neighbourhood, especially on a Monday night.
"However, we know that people were going to and from the Shahi Mirch Indian takeaway nearby, and we know that people were drinking in the Hogshead pub.
"We need to speak to as many people as possible to create the fullest possible picture of activity in the area."
Mr Holdsworth, a paint sprayer, finished work at FBS Prestige in Intake at 22:55 on Monday 16 December.
A colleague gave him a lift to a bus stop on Mansfield Road, by the Noah's Ark pub, where he got the 120 bus shortly after 23:00.
He is thought to have got off the bus at his usual stop around 10 minutes later, near the Hogshead pub and Rainbow Forge Primary School.
He never made it home to his fiancée and child, and his body was found in the field by a member of the public at 06:30 the next morning.
A post-mortem examination found he had died of head injuries.