Bid for Sheffield sports college rejected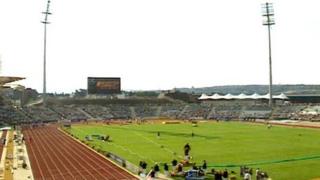 A plan to build a second university technical college (UTC) in Sheffield has been rejected by the government.
The city council unveiled plans to create a UTC specialising in sport and life sciences, possibly at the former Don Valley Stadium site, last year.
The council is now considering whether to submit a further application, saying it has received indications that a second bid may be successful.
The reason for the bid being turned down has not yet been revealed.
'Obviously disappointing'
The city's first college dedicated to technical industries opened in September 2013.
Councillor Jackie Drayton, cabinet member for Children, Young People and Families said: "Obviously it is disappointing not to have been given the go-ahead for the city's second UTC, especially given the great start we have had with the first UTC here in Sheffield."
The second UTC could be built on the site of the former Don Valley Stadium, which is in the process of being demolished.
Sheffield College had been chosen as the sponsor of the proposed college.
The Department for Education announced on 23 January that six new UTCs had been approved in Bolton, Peterborough, London, Scunthorpe and Warrington.