Sheffield 'crash-for-cash' ringleaders jailed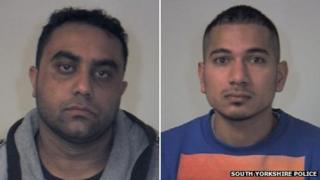 Two men have been jailed for orchestrating a series of "crash-for-cash scams", including one involving a bus with up to 40 passengers on board.
Mohammed Gulzar and Shoaib Nawaz, from Sheffield, attempted to net £500,000 from a series of fraudulent insurance claims via their firm City Claims 4 U.
One staged accident involved a 12-tonne bus hitting a car in Burngreave, Sheffield.
Gulzar, 31, and Nawaz, 25, were jailed at Sheffield Crown Court.
Gulzar and Nawaz, who were found guilty of fraud after a trial last year, were jailed for four-and-a-half years and three-and-a-half years respectively.
Nine other people were also sentenced for their part in the fraud.
Bus driver Adam Herbert, 25, from Sheffield, was jailed for 20 months, after admitting his involvement.
The court heard how the bus crash, in June 2011, was just "the most extreme example" of a series of fake collisions masterminded by Gulzar and Nawaz.
The collision was only slight and caused £800 of damage to the vehicle but innocent passengers among those on board said they were amazed to see some people overreact to the small bump.
One man even threw himself into the windscreen.
Detectives found that some passengers had picked up claim forms from Gulzar's company, City Claims 4 U, even before the crash had happened.
Inquiries into the bus crash led to a wider investigation into the Sheffield-based firm.
Judge Graham Robinson heard how Gulzar set up more than 30 collisions in order to make false claims which could have cost insurance companies almost £500,000, although only around £40,000 was ever paid out.
Charges were eventually brought in relation to nine fake incidents in Halifax, Sheffield and Rotherham.
Det Con Mark Wootton, of South Yorkshire Police, said: "The sentences handed out today send a strong message to those who think they can get away with making false claims and defrauding insurance companies to pocket the cash for themselves.
"It is also vital to point out that this is not a victimless crime. Not only do false claims raise insurance premiums for all drivers, but staging crashes such as these could have resulted in injury or even death.
"It is by sheer luck alone that nobody was seriously hurt in these reckless collisions."