£40m redevelopment of Barnsley town centre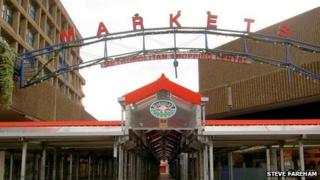 A council is to take over the development of a town centre after failing to attract a private developer.
Multimillion-pound plans to redevelop Barnsley town centre have been on hold for a decade.
Barnsley Council said taking over the £41m project itself would end "uncertainty" for businesses and market traders.
The project will include the creation of a new market, central library, public square and retail units.
The Labour-run council said the plans would not impact on existing budgets and was being paid for through "recent asset sales and borrowing".
Council leader Sir Stephen Houghton said the economic downturn had made it difficult to attract inward investment.
'Concrete timescales'
He said: "We have waited 10 years to try and get the private sector to invest in Barnsley. We haven't been able to do that.
"Both market traders and businesses want some certainty about the future of the town which is why we have taken this decision."
As part of the scheme the Metropolitan Centre, which houses the market, will remain but will be completely redeveloped with space for new shops.
Wayne Johnson, a market trader, said: "I am really looking forward to it along with all the other traders. We now have some concrete timescales and everybody I think will see this as a positive measure.
"The best bit is the market will stay with the authority rather than a developer or private landlord."
The council said preliminary work would begin in the summer with work on the major redevelopment starting in early 2015.