Train crush teacher inquest delayed after mum taken ill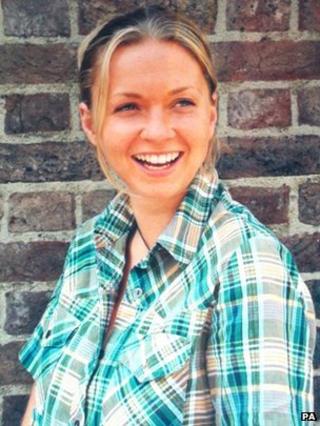 An inquest into the death of a pregnant woman hit by a train on a crossing in Australia has been adjourned after her mother was taken ill.
Kay Stanley, from Rotherham, was killed when her car was struck by the train in the town of Tyabb, near Melbourne.
She was three months pregnant when she died in January 2008.
South Yorkshire Assistant Deputy Coroner Julian Fox adjourned giving his findings after her mother Gwen Bates was taken into hospital.
Mrs Bates has spent six years campaigning about her daughter's death and gave evidence at the inquest on Tuesday.
Mr Fox told the hearing he thought it was appropriate to adjourn his findings until Mrs Bates was able to attend and hear his response in person.
Sheffield Coroners' Court was told at the start of the inquest on Tuesday that the 32-year-old drama teacher had been due to marry her partner, Brett Vogel, in March that year.
Miss Stanley's VW Beetle was pushed by the train before being crushed.
Mrs Bates told the inquest her daughter was a cautious driver and she did not believe she would have driven through warning lights.
The hearing follows an inquest in Australia in 2012 where Victoria coroner Jacinta Heffey rejected Ms Bates' view that the level crossing's flashing lights were not operating.
At the time she said there was "overwhelming" evidence that as Miss Stanley approached the crossing the warning lights and bells were operating.
According to reports in Australia, a UK coroner was obliged to hold a new inquest after Miss Stanley's mother won a legal battle to have her daughter's body exhumed and repatriated.