Teacher crushed by train in Australia was set to marry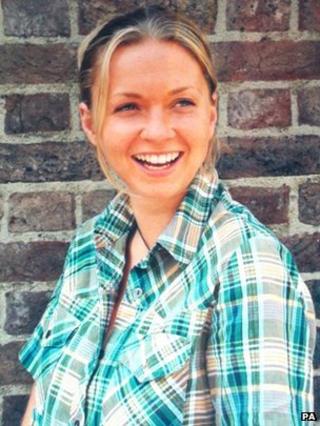 A pregnant teacher died when her car was hit by a train on a level crossing in Australia just weeks before she was due to get married, an inquest heard.
Kay Stanley, from Rotherham, was killed when her vehicle was struck by the train and crushed against a platform in the town of Tyabb, near Melbourne.
She was three months pregnant when she died in January 2008.
Sheffield Coroners' Court heard the 32-year-old was due to marry her partner, Brett Vogel, in March that year.
The inquest heard Miss Stanley's VW Beetle was pushed 185yds (170m) by the train before it was crushed.
In a statement, the train driver described how the car had rolled on to the track in front of him at the barrier-free crossing.
However, Miss Stanley's mother Gwen Bates, from Greasbrough, Rotherham, told the inquest her daughter was a cautious driver and she did not believe she would have driven through warning lights.
She said: "I know she would never, ever have driven through red lights.
"I've seen her pull a car up on a sixpence because lights have changed. Nobody will convince me of anything other."
Miss Stanley moved to Australia in 2004 and worked as a drama teacher and also at a local kindergarten.
At an inquest in Australia in 2012, Victoria coroner Jacinta Heffey rejected Ms Bates' view that the level crossing's flashing lights were not operating, saying there was "overwhelming" evidence that as Miss Stanley approached the crossing the warning lights and bells were operating.
Ms Heffey determined that Miss Stanley was distracted when her vehicle entered the level crossing but could not determine what caused this.
According to reports in Australia, a coroner in the UK said he was obliged to hold a new inquest after Miss Stanley's mother won a legal battle to have her daughter's body exhumed and repatriated.
Assistant deputy coroner Julian Fox is expected to deliver his findings in the current inquest on Wednesday.