Sheffield Don Valley flood defence bid upped by £10m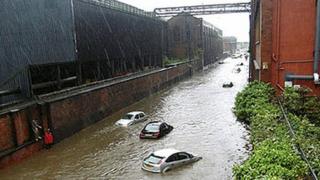 Sheffield City Council has asked for an extra £10m from the Environment Agency to help protect the city from flooding.
The River Don broke its banks in 2007, leading to the loss of two lives and causing damage put at millions of pounds.
Major prevention work could be finished by late 2015, the authority said.
The council said a total of £19m for flood defences would enable it to withstand "a one in 100 years flood".
Current plans for the defences include 40 separate projects - flood walls, gates, repairs and reinforcements to existing defences along a 5 mile (8km) stretch from Sheffield centre to Blackburn Brook near the M1.
Jack Scott, cabinet member for Environment, Recycling and Streetscene, said: "Considering the devastating consequences flooding continues to cause across the country, the opportunity to apply for extra funding is more important than ever before."
The city was also hit by heavy flooding when the River Don broke its banks in 2000.