British Korean Veterans Association standard 'laid up' in Doncaster Minster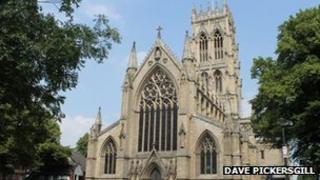 The standard of the South Yorkshire Branch of the British Korean Veterans Association (BKVA) has been "laid up" at a ceremony in Doncaster Minster.
It marks the last meeting of the association that has closed due to many of its members being in their 80s.
Started in 1985 the association had about 35 members who fought in Korea as part of a UN force in 1950-53.
Toby Seymour, of the BKVA, said: "It is just the rhythm of life, old soldiers never die they just fade away."
'Camaraderie and jokes'
Mr Seymour said: "It was known as the Forgotten War but it was not a forgotten war for us."
He would miss the "camaraderie and jokes" between association members at their meetings at Doncaster, he added.
The National Association of the BKVA has also decided it will cease as an association during 2014.
The Republic of Korea was invaded by the North Korean People's Army in June 1950.
The United Nations Security Council branded the North Koreans as aggressors and UN member states were called on to send in military assistance.
Some 100,000 British servicemen and women served during the war and about 1,100 were killed in action.