Cancer patient Peter Redfern: Wife and daughter killer jailed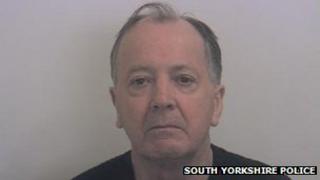 A cancer patient has been jailed for life for killing his wife and daughter after suffering an adverse psychiatric reaction to his chemotherapy drugs.
Peter Redfern strangled his wife, Jean, before bludgeoning his only daughter, Sarah, to death with a hammer at their home in Wath-upon-Dearne in July 2013.
Jailing Redfern, 70, for a minimum of 17 years, Mr Justice Males said he would almost certainly "die in prison".
Redfern pleaded guilty to murdering Sarah and the manslaughter of his wife.
The bodies of Mrs Redfern, 67, and shopworker Sarah, 33, were discovered after Redfern told a 999 operator: "I've just killed my wife and daughter."
The two women were found with plastic bags over their heads that had been secured with electrical flex.
'Deliberate and dreadful'
Sheffield Crown Court heard retired gas fitter Redfern had been diagnosed with a form of incurable bone cancer in May 2013 and had signed up to a national trial for treatment with particular drug combinations.
Mr Justice Males said: "Studies have shown, however, that in a very small percentage of cases the drugs which you took can lead to an adverse psychiatric reaction, which, when it occurs, is generally mild or moderate but in a very small number of cases can be serious.
"Tragically, that was to prove to be so in your case."
Redfern sat weeping in the dock at Sheffield Crown Court as the judge recounted the events of 22 July.
He said Redfern had, on the balance of probabilities, killed his wife of 45-years "on impulse when your mental functioning was abnormally affected".
The court heard Redfern then made the "deliberate and dreadful decision" to kill his daughter because he did not want her to see what had happened to his wife.
'Severe force'
"When Sarah arrived home you surprised her, with a carrier bag, electric flex and hammer which you had got ready for use," he said.
"After managing to put the carrier bag over her head you killed her by hitting her repeatedly on the head with severe force."
He added later: "We cannot imagine how she must have felt in what must thankfully have been those brief moments before she died, with a bag over her head and hammer blows raining down on her."
In setting the minimum term for the murder of Sarah he said the exercise was "in one sense academic" as, due to Redfern's age and illness, "it is as certain as anything can be that you will die in prison".
The judge said he had taken into account Redfern's "hitherto blameless life" and accepted that "on the evidence these tragic events would never have taken place if not for the side effects of the drugs".
Redfern pleaded not guilty to murdering his wife, but guilty to manslaughter on Wednesday.
He pleaded guilty to murdering his daughter.