Union Unison says Doncaster mayor's budget plan 'worrying'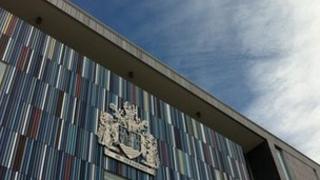 A council's confirmation of plans to slash jobs and services in order to balance its books has been described as "incredibly worrying" by a trade union
More than 1,200 jobs will be axed by Doncaster council over three years, its seven council-run care homes will close and children's services be reduced.
Mayor Ros Jones confirmed her budget plan of last October, saying the council "cannot stay the same".
Public service union Unison said the plan was "incredibly worrying".
Library stopped
The Labour-run authority said it had to save £109m over the next three years, including £38m in the next year.
The budget cuts would see the mobile library service stopped, although a home delivery service is being considered.
A rise of 3.7% on council house rents was proposed which would equate to an average increase of £2.46p per week, the mayor's office said. Council tax could also be increased by up to 2% per year.
Melanie Onn, the regional organiser of Unison in the Doncaster area, said the plan was "incredibly concerning and worrying".
Ms Onn said: "The public 'conversation' about these plans was done online, under the radar of people affected who would not be aware such as community organisations and charities.
"These government cuts are detrimental to the people of Doncaster."
She added: "Plans to close the residents' centres are incredibly worrying times for staff.
"There will be people who have lived there a long time who will be expected to move. Staff losses are incredibly concerning and we are worried about the kind of providers people will be moved to."
Mayor Ros Jones said the council could not stay the same.
She said: "The council has looked at every service it currently delivers to carefully assess if that service could be reshaped, delivered more cost effectively by partners or the community or indeed if it could be reduced or stopped.
"The way the council looks and delivers services will have to be different if we are to survive the on-going government cuts to our funding. These are unprecedented times in local government."