Sheffield 'slave' home garage 'deliberately set alight'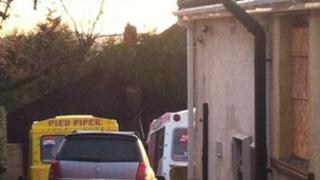 A garage where a man with learning difficulties was forced to live while being used as a slave by a Sheffield family has been "deliberately set alight", the fire service has said.
Fire crews dealt with the blaze at the home of David Rooke in Halifax Road at about 22:15 GMT on Thursday.
Rooke was jailed on Tuesday after admitting imprisoning and assaulting 34-year-old Craig Kinsella.
The fire follows windows being smashed at the house in an attack on Wednesday.
Rooke, 44, was jailed for six-and-a-half years after pleading guilty to false imprisonment and five counts of causing actual bodily harm.
He was also ordered to pay £15,000 to Mr Kinsella.
'Severely damaged'
His son Jamie Rooke, 19, admitted to affray and assault and was sentenced to four-and-a-half years in prison, while his wife Donna Rooke, 40, was jailed for four months for battery.
A spokesman for South Yorkshire Fire and Rescue said two crews had been called to the fire and had found the garage "well alight".
He said the building was "severely damaged" and the cause of the fire had been found "to be deliberate".
A spokesman for South Yorkshire Police, who are investigating the smashing of the windows at the house, said the force would also "look into" how the fire started.
He said two vehicles at the house had also been damaged.