Sheffield City Council welcomes M1 speed limit plan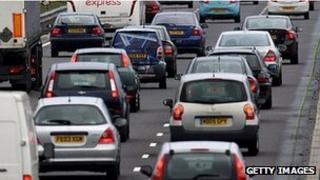 A plan to introduce a 60mph limit along a 32-mile stretch of the M1 has been welcomed by Sheffield City Council.
The government is considering imposing the restriction between junction 28, near Matlock in Derbyshire, to junction 35a, north of Rotherham.
The proposed reduction from 70mph to 60mph would be in place 07:00 and 19:00, seven days a week.
Councillor Jack Scott said the proposal would help mitigate the motorway's impact on air quality in Sheffield.
Mr Scott said the council was "pleased that the Highways Agency is listening to our concerns".
"We've known for many years that the area of Sheffield near the M1 is particularly badly affected by air pollution, and that traffic emissions are a major contributor," he said.
He added that council representatives would be meeting with the Highways Agency to discuss the plan.
A public consultation on the proposal closes on 3 March.