South Yorkshire's Man of Steel sculpture gets £1m boost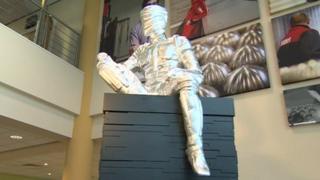 Plans to construct a 125ft (38m) steel sculpture beside the M1 in South Yorkshire have been boosted by a £1m anonymous pledge from a local business.
The Man of Steel figure, which will sit on a steel plinth at Kimberworth, will be visible from the Tinsley viaduct on the M1 between Sheffield and Rotherham.
The £3m privately-funded statue will be taller than the Angel of the North.
The sculpture's creator, artist Steve Mehdi, said the donation had given the project "an enormous lift".
'Wider support'
"It gives us the confidence to go forward to raise the rest of the money," said Mr Mehdi.
"It's an example, really, of the wider level of support that we've had over the past four years."
About £2m, including donated materials, has now been raised towards the project, he said.
Work on the sculpture would begin as soon as the remaining money was raised, Mr Mehdi said, with construction expected to be completed by the end of 2015.
Planning approval for the sculpture was granted by Rotherham Council in August 2012.