Sheffield foundry fined over worker's death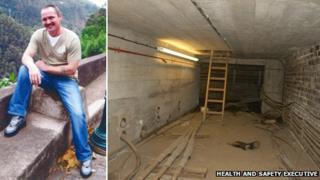 A steel foundry has been fined £245,000 for safety failings that led to a man dying of carbon dioxide poisoning.
Brian Wilkins died after a cellar he was working in filled with the gas at Forgemasters, in Sheffield, in 2008.
The Health and Safety Executive (HSE) found the gas was released after a petrol-driven saw he was using set off the fire extinguishing system.
The firm admitted breaching health and safety laws but said it did not accept its actions had caused the death.
Father-of-three Mr Wilkins was found unconscious in the cellar and, despite the efforts of colleagues, was pronounced dead on arrival at hospital.
Sheffield Crown Court was told the firm had failed to provide any rescue equipment for either the cellar or the drawpit where Mr Wilkins had been working.
'Upsetting and needless'
Other issues identified by the HSE included "a lack of a risk assessment by the firm" for part of the work being carried out and "failing to provide a safe system of work for Mr Wilkins' task in either underground location".
The health and safety watchdog also found there was no secure way to isolate the carbon dioxide fire system while work was going on in the cellar.
The company was fined £120,000 and ordered to pay £125,000 in costs.
HSE Inspector Jill Thompson said: "This was a very upsetting incident that resulted in the needless death of Mr Wilkins.
"It could have been an even worse tragedy as it was pure chance that another four workers who entered the cellar in a desperate bid to save their colleague did not also perish.
"Sheffield Forgemasters had given no thought to the risks associated with the task being undertaken by Mr Wilkins, nor had they provided emergency rescue equipment."
Graham Honeyman, chief executive at Sheffield Forgemasters, said: "[The company] does not accept and has never accepted that its actions have caused or significantly contributed to the tragic death of Brian Wilkins."
He said the company placed the health and safety of its employees at "the highest level".