Kadan Beaumont murder: Report says welfare concerns missed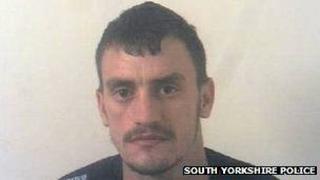 The death of an 11-month-old boy killed by his father could have been avoided if concerns for his welfare had been picked up sooner, a report has found.
Kadan Beaumont died in 2011 after Michael Beaumont, 29, inflicted injuries he blamed on the family dog.
The report by Barnsley Safeguarding Children's Board said concerns for Kadan's welfare should have been raised nine months before his death.
Beaumont, from Hoyland, was jailed for life for murder on Wednesday.
Kadan's mother Helen Barnes was cleared of causing or allowing his death but convicted of neglect.
The report said Kadan, referred to as "Child K", had been seen at hospital twice in the space of eight days when he was two months old.
On the first occasion he was taken to Barnsley Hospital because he had been coughing up blood as a result of a burst blood vessel in his pharynx.
During the second visit to Sheffield Children's Hospital he was treated for a swelling on his ear.
The report said it "should have been investigated as a possible non-accidental injury" but was overlooked by medics, despite colleagues recognising the need to probe the cause.
'Tragic death'
The report said: "The findings suggest that there were incidents that should have resulted in agencies having concerns about Child K's welfare nine months before he died.
"Such concerns should, in turn, have led to a different course of action in which case the tragic death of Child K may have been avoided."
Mr Ward also pointed to "numerous problems" with the health visiting service, citing issues with the continuity of visits and describing the initial visit as "insufficiently thorough".
Pathologists found 34 injuries on Kadan's body, including two fractures to the toddler's skull.
Bob Dyson, chair of Barnsley Safeguarding Children Board, said: "The review made a number of recommendations of lessons to be learnt and improvements in working practices.
He claimed all of the recommendations had been "actioned".
A spokesperson for Barnsley Hospital NHS Foundation Trust said: "At the time we believed that the clinical decisions we made were correct. However, we accept that in hindsight we should have considered admitting Kadan whilst further inquiries were made."
"Appropriate changes" had been put in place, the spokesperson said.
Sheffield Children's NHS Foundation Trust said there should have been "further contact with social care" before the explanation given by Kadan's mother was accepted.