Protest over Rotherham Abbey Special School 'restructuring'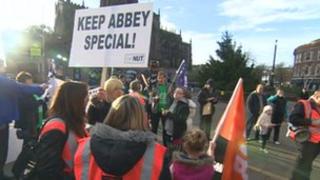 Parents and teachers of pupils at a South Yorkshire special school have demonstrated over fears staff may be axed under restructuring plans.
The GMB union says staff are having to reapply for their jobs at Abbey Special School, in Kimberworth, and some are facing redundancy.
Demonstrators gathered in Rotherham earlier to voice their concerns.
But, executive head teacher Roger Burman has said "no decision" has been reached about redundancies.
'Plunged into chaos'
Abbey School is a special school for pupils aged 7 to 16 with "moderate learning difficulties and complex needs".
GMB spokesman Lee Simpson said restructuring would "negatively impact" on pupils.
Fred Sprague, from the National Union of Teachers, said school managers appeared "willing to allow a school judged good by Ofsted in its most recent report to be plunged into chaos".
However, Mr Burman said "it should be noted that standards can and do slip" between reports and that "concerns over the overall effectiveness of the school" existed.
Rotherham Borough Council said Mr Burman was appointed following a review of the school carried out in January to "further develop the school and ensure it is delivering the most effective learning for its children".